How to Deal with Job Rejection
One of the major problems for jobseekers is rejection no one likes to be rejected for a job, as they have many dreams and plans associated with the job.
But It can be even harder to cope with job rejection if it happens over and over again. but generally, all job seekers have to face it. The important thing is how to cope up with rejection and move on. Why does it happen? Generally, hundreds of candidates apply for a single job opening and even though you are extremely qualified, the probability of getting rejected is more than the probability of getting selected for the job.
To get a dream job or getting hired in a big company, first, you have to learn to cope with being turned down. Otherwise, it might turn into a major roadblock for your career.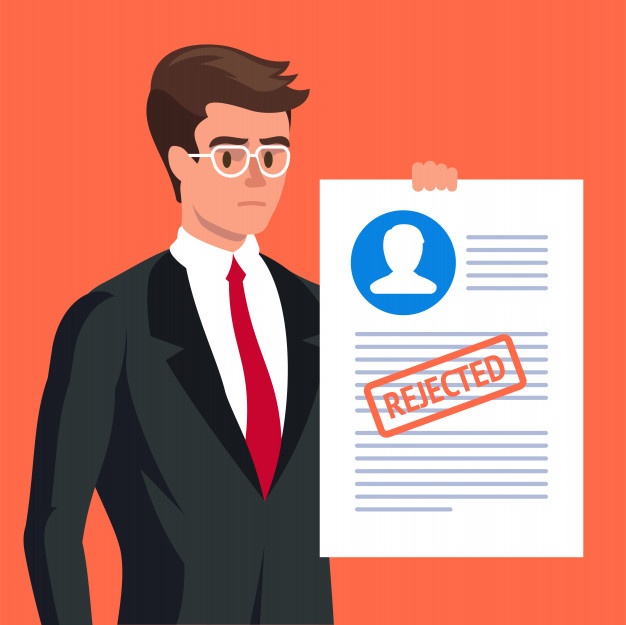 Tips to Move on After a Job Rejection:
Recovering from a job rejection
The first thing to do after a rejection is to analyze what went wrong, and how you can learn from it. The first thing to do is, asking for feedback from the hiring manager when you faced with a job rejection. Self-analysis alone won't paint the whole picture of why you weren't the right person for the role
1. Job rejection can bring on negativity. It's a natural tendency for humans to attract and impacted by negative events rather than positive or neutral events.
2. Don't take it personally. It Does happen to almost all but instead tries to learn where you went wrong.
3. You can share your feelings regarding the job rejection with family or friends. Identify the right people, who can guide you through the rough phase.
4. Focus on your strengths and stay Positive.
5. Maintain your momentum.
One important thing you should know that for a single job many candidates will apply, and many talented candidates are often rejected due to a tight job market.
The hiring manager has rejected you because he has found another candidate who is the best fit for the job. Also, agree that the hiring manager was right, and you don't suit for this job and you wouldn't have worked out or been happy in the role. So thank the hiring manager of the company for not hiring you.
Analyzing Your Candidature
Then take your time to review your resume, cover letter, how you performed during the interview, and your follow-up after the interview.
First, analyze whether your resume was according to the job specification mentioned in the ad, did you mention all the skills and qualification that is mentioned in the job description in your resume. (kindly mention them if you have those skills and qualifications). Remember whatever you mention in your resume should be true facts.
Then check your cover letter, whether it highlighted all your skills, qualification and why you are the best fit for the job.
Then think about how you did in the interview process and what went wrong. Try to identify those areas where you went wrong and work on them.
Go Ahead with Your Job Search:
If the candidate performs well in the interview, they think that they got the job and stop applying for other jobs. But unless you have an offer letter or any confirmation regarding the job, don't stop your job hunt.
Finding responses from interviewers for another job, will soften the blow if you are rejected. So there are more chances of getting better offer, regardless of whether you get this particular job.
Bonus Tips:
Remember Job Rejection happens to everyone, but most important thing is how you cope up with this and move on.
Use this situation and grow yourself.
Never lose your momentum.