Tips to Create Job ADs That'll Attract the Right Candidates
To attract the right talent, first, we need to write the job description properly. Remember the better your job description, the better your chance at getting the perfect candidate to apply for a job.
Social media like LinkedIn, Facebook can help you put your job post in front of relevant candidates –Of course, creating a good job description can help you further.
Find below the few tips to make your job post attract the right talent.
1.Make your job titles specific and use attention grabbing summary
Usually the jobseeker will first observe for the job title in your job ad. If job title doesn't make sense, then jobseeker will skip your job ad, meaning all your job ad writing efforts are in vein and waste of your precious time. Therefore, it's very important to keep things simple and understandable for all job seekers when it comes to writing job titles, which means that we have to use a understood job titles.
Think about the candidate you want, and draft your job description accordingly. Craft your introduction according to what appeals good to your target audience and taps into the qualities it will have, or the essential functions of the position being posted.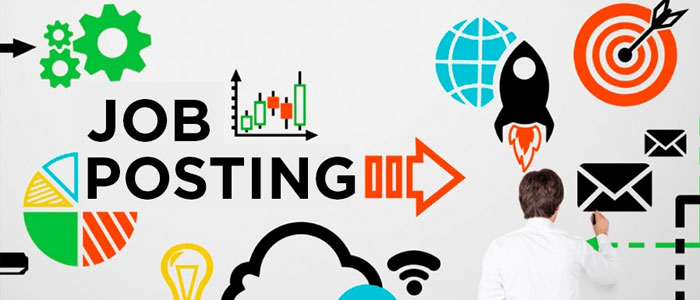 2.Let's Keep it concise
Always keep your job post short and precise. Include the necessary information like skills, qualification, experience. Mention the responsibilities and duties included in the specific job role. As Shorter job posts had a higher application rate than the longer job posts. Keeping things concise helps candidates understand the job description properly and will get the information they need. According to the survey, Job posts with 150 words or less got candidates to apply 17.8% more frequently than job posts with 450 to 600 words.
While writing the job description, be careful of getting it too causal. Clearly mention preferred and required skills in your job post.
3.Add an Image in Job Description
According to the survey, more candidates get attracted to a company with job postings that have visual elements (images or videos), than to a company with postings that didn't. Try to add image or video that explains the job requirement. Be it be meaningful.
4.Clearly mention required and preferred skills
While writing the job description, clearly mention preferred and required skills in your job post. It helps the jobseeker to understand whether they fit for the particular job or not. In other words, if a candidate feels that he doesn't have the skills needed to do a job, they he won't apply for the role, even though he may be perfectly qualified for it.
If you do not differentiate between required and preferred skills, job seekers will apply for the job even though he is not having skills. But during the interview, the hiring manager will ask for everything, and as a result, he is rejected. It's a waste of time for both recruiter and the candidate.
5.Include the Salary Component:
Candidates after seeing the requirement, they look for salary information. Clearly mention the salary components and benefits, because candidates should know how much company can offer. Candidate should not waste their time applying for a role that does not meet their financial requirements. Just remember to include it last.
6.Mention How to Apply for Job
It's a simple thing, but most of the recruiters forget to mention the contact details or mail ID. Mention in your job description where and how to apply for the job, and also the rounds of interview conducted. This gives the candidate to prepare for the interview.
Key Takeaways:
Study your target candidate.
Optimize the job title with the strong and apt keywords.
Start with a company summary.
Concisely describe the job's benefits.
Summarize the benefits package.
Keep the job's requirements clear and realistic.
Try to use strong verbs to describe the responsibilities.