Top 5 Tips That Will Make Your Resume Noticed by HR's
Everyone knows how to draft a resume but if you follow these few simple changes, you can make your resume stand out from the crowd and thus leading to more chances of getting hired.
But the Question is How to Get Your Resume Noticed by Employers?
These tips which are mentioned in this article, will help get your resume being noticed by HR's.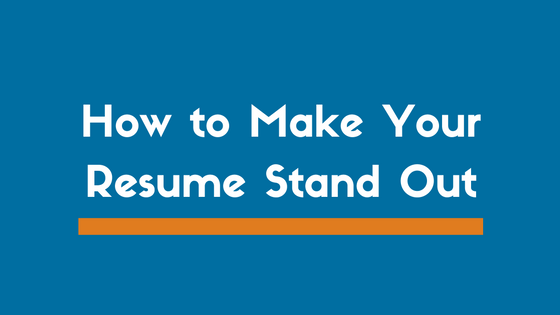 1.Your Qualification Should Match Their Requirement:
Make sure you meet the qualifications.
Whenever a job requirement is posted or advertised, kindly check for the qualification which they are looking for. If your qualification suits, then apply for the job. Otherwise, you're wasting everyone's time.
2. How to Mention Details in Resume:
Customize your resume according to Job Requirement.
I see most of the jobseekers send the same resume to every job and you shouldn't do that. In fact, you have to customize resume by including the qualifications and skills according to job description.
Mention your accomplishments Properly.
Mention what you have accomplished in each job, not your job responsibilities, as your recruiter wants to know your accomplishments rather than what you did. Make sure you mention the relevant skills.
You can find the specific skills and attributes the employer is looking for in the job posting and if you have those skills, kindly mention them in the resume.
Add a proper covering letter.
Writing covering letter is the one of the best way to highlight the specific qualifications and skills, you have for the job. When writing a cover letter, we follow certain format: a contact section, a salutation, an introduction to the recruiter, information providing why you are qualified for the job, a closing, and your signature.
Make sure your resume matches the job posting. Your resume should match to the job qualifications and requirements, then there will be better chances of getting selected for an interview. Make a list of the qualifications and skills that the employer wants, and then be sure to be include in your resume.
Add a headline or profile. A proper headline or profile is a great way to grab the reader's or Hiring manager's attention. Be sure that it focuses on your skills and what you can offer to the company, not on what you want from a job.
3.Focus on Formatting
Use a right font.
I suggest to use black Times New Roman, Arial, or Calibri and 10 to 12 points works best. Use italics and bold to highlight job titles and other titles.
Your resume is no place to experiment with or use difficult-to-read text, handwriting-style, or calligraphy type of fonts. Try to maintain the consistent font type and size throughout the resume. Don't use too many images or colored text in the resume, unless you're in a design field.
4.Get Rid of the Unwanted Information:
Your resume is professional, not personal. You should not include too much information about your personal life or any other information which is not related to work.
If you have a lengthy work history, it's enough to mention the last 10—15 years of your work experience. Your resume is a brief of your employment history, should not be your complete life story.
5.Checklist Before You Send Your Resume
Check for errors. Before sending the resume you have to check for errors, a spelling or grammatical error.
Save your resume with a recognizable name.
Don't save your resume with any anomalous name, instead, take a second or two to personalize the file name to FirstLastNameResume.doc—that way it's clearly recognizable to recruiters and hiring managers.
Save it as a PDF. If you save your resume as a PDF, you won't have to worry about weird or funky formatting and readers can view your resume exactly as you want it to look. Send it in different format, if the recruiter asks you to do so.
Bonus Tips:
It's a good idea to mention the LinkedIn profile URL in your resume.
Keep your resume simple and precise. As the simple format is easier for the ATS to screen and also its easier for recruiters to read and shortlist.
Try to use connection, if you know someone in the company.